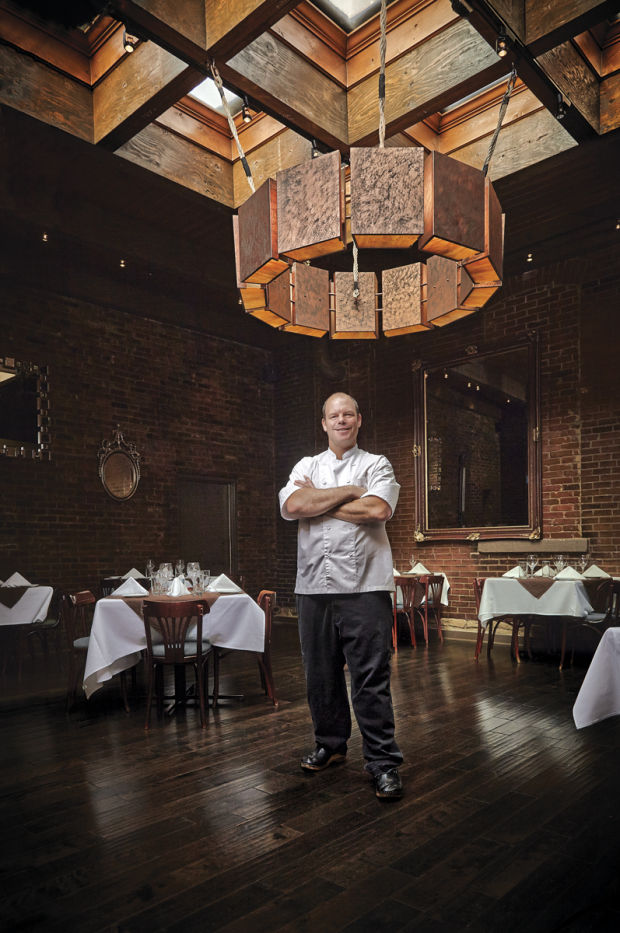 Kevin Nashan, Sidney Street Cafe (shot on location at Sidney Street Cafe for our January 2014 Tastemakers Issue)  Photography by Demond Meek
Kevin Nashan
chef-owner, Sidney Street Cafe
Who or what do you believe is a hidden gem in the St. Louis food scene? Nate Hereford. Not necessarily under the radar, but he has helped Niche evolve with my buddy Gerard [Craft]. He flat out has great talent and, more importantly, [is] a [good] person.
What do you think is a definitive flavor of St. Louis? Smoke and hops – both seem to consume our air with amazing breweries and barbecue.
What do you hope to see happen next in the St. Louis food scene? A different winter than last. Selfishly, a great butcher shop by Chris Bolyard, because he has worked so hard for the past three years for that goal. [I] can't wait to see it come to fruition.
Imagine you have one entire day to dedicate to dining out in St. Louis. Where would you grab breakfast, lunch, drinks and dinner? Start with Half & Half, then coffee at Sump. Lunch would be at Pappy's and Mai Lee and a snack in the afternoon at Crown Candy. Dinner would be bites at Niche, Farmhaus, Cleveland-Heath, The Libertine and Olio. Finish it up late with an In a Pickle [cocktail] at Taste. And yes, this has been done before; I just wish there were more hours in the day.
What's playing on the radio in your kitchen? Eminem, Kenny Chesney, Rage Against the Machine and a little Sam Cooke.
What inspires you to do the work that you do? I get inspiration everywhere. It could be a book, person, something I watched, a bike [ride] or run.
If you weren't in the restaurant industry, what would you be doing? Probably in the CIA. My grandfather was in it for 22 years, and I have always found it fascinating.
Sidney Street Cafe celebrated its 10th anniversary in December 2013. What did celebrating that milestone mean to you, and what do you hope for the restaurant's future? Lots of emotions. We were so grateful and humbled to be around for a quick 10 years, yet excited for the future because there is so much more we can do to improve and evolve Sidney. I hope we can continue to contribute to the St. Louis dining scene for many years to come.