WHAT: A city with no county, one of only 41 in the US.
WHERE: Located on the west bank of the Mississippi River.
NICKNAME: The Gateway City.
LOCAL EATS: BBQ ribs and crispy snouts calls "snoots."
LOCAL SWEETS: The concrete at Ted Drewes.
LOCAL DRINKS: Craft Beer.
BRING HOME: Locally-made charcuterie from Salume Beddu.
Gateway to the West, this city on the mighty Mississippi will keep you busy exploring the different neighborhoods with plenty of choices for eating and drinking.
THE PROS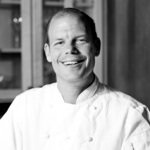 Chef Kevin Nashan
Chef and owner of Sidney Street Cafe, his cuisine is inspired by his Spanish heritage, his childhood in Santa Fe and his classic French training. He worked at Daniel in New York before opening his own restaurant in St. Louis. He has been named a semifinalist for the James Beard Award multiple times, won the 2013 Cochon 555 Barbecue competition in St. Louis and has cooked for President Barack Obama.
Chef Gerard Craft
Chef and owner of four St. Louis spots: New American restaurant Niche, casual pizza and pasta place Pastaria, Parisian-inspired Brasserie and cocktail bar Taste. Craft has been nominated for a James Beard Best Chef: Midwest Award five times and was named one of Food & Wine's Best New Chefs.
Chef Josh Galliano
Chef and co-owner of The Libertine. A Louisiana native, he moved to St. Louis after working at Commander's Palace in New Orleans and Daniel in New York. Named one of Food and Wine's Best New Chef: Midwest and nominated multiple times for the James Beard Best Chef: Midwest award.
FIND.
STRANGE DONUTS
You'll get your glazed, fritter, custard, jelly, Long John and the rest of the classics. But don't overlook their unique creations like chicken and waffle, pizza, hog burger, strange bacon, and gooey butter donut. Chef Kevin Nashan loves that they work with local restaurants. "They collaborate with the restaurants all over the city to create weekly donuts inspired by favorite dishes of those restaurants. They recently did a pho donut with Mai Lee's!"
2709 Sutton Boulevard, St. Louis, MO 63143
T: 314.932.5851 | www.strangedonuts.tumblr.com
SALUME BEDDU
Josh Galliano calls this "one of the best salami shops in town." Kevin Nashan recommends you come here "for their charcuterie. This is a pork lover's paradise. They make delicious salumi utilizing the pigs in our backyards." They also make sandwiches.
3467 Hampton Avenue, St. Louis, MO 63139
T: 314.353.3100 | www.salumebeddu.com
EAT.
Breakfast | Brunch
HALF & HALF
Kevin Nashan recommends you come here to start your day with a hearty breakfast and your choice of espresso, pour-over, or cold-brew coffee. For lunch, you can order sandwiches, burgers or salads. They also serve tea, beer, wine and cocktails.
8133 Maryland Avenue, Clayton, MO 63105
T: 314.725.0719| www.halfandhalfstl.com
Lunch
GIOIA'S DELI
"For their hot homemade salumi de testa sammy," recommends Kevin Nashan. This is an Italian deli with lots of sandwich options, hot and cold. You pick the bread, next the cheese, the filler, garnish, condiment and the side dish.
1934 Macklind Avenue, St. Louis 63110
T: 314.776.9410 | www.gioiasdeli.com
BBQ
PAPPY'S SMOKEHOUSE
Memphis-style barbecue that is always top of chefs' lists of where to eat. "For ribs. It is life changing," says Gerard Craft. Josh Galliano loves the ribs and the smoked turkey, "The quality is unbelievable and the consistency is just unreal, especially when they're serving thousands of people every day." Kevin Nashan agrees, "The ribs are a must try. This is one of my favorite restaurants, because the food makes you want to give somebody a hug afterwards."
3106 Olive Street, St. Louis, MO 63103
T: 314.535.4340 | www.pappyssmokehouse.com
SMOKI O'S
A counter and carry out barbecue joint that opened in the late 1990s. Known for their pig snouts, locally called "snoots," as well as their rib tips. They are cured with cayenne pepper and salt. They aren't fried, but they are doused with lots of barbecue sauce.
1545 N Broadway, St. Louis, MO 63102
T: 314.621.8180 | www.smokiosbbq.com
BOGART'S SMOKEHOUSE
Josh Galliano picks this smokehouse because, "they're thinking about barbecue very much outside the normal stuff." He also loves the barbecue pastrami made in their smoker. "They'll do cool things like make their own ham and use it to make a Cuban sandwich. Their beans are phenomenal. I love the sides, which is where most barbecue restaurants fail."
1627 S 9th Street, St Louis, MO 63104
T: 314.621.3107 | www.bogartssmokehouse.com
Dinner
MAI LEE
"Head here for the 'St. Paul Sammy' and the best darn pho ever," says Kevin Nashan. "This is an everyday desire and the pho is really special." Owner Lee Tran left Vietnam in 1980 and moved to St. Louis where she worked as a waitress in a Chinese restaurant. Five years later, she opened Mai Lee, but originally only served Chinese food. Slowly, she introduced Vietnamese dishes on her menu and today you'll find an extensive list of classic Vietnamese dishes and a few remaining Chinese ones. They are all cooked by her son, chef Qui Tran. Josh Galliano describes the food as "phenomenal" and strongly suggests ordering the Salt and Pepper Calamari."
8396 Musick Memorial Drive, St. Louis, MO 63144
T: 314.645.2835 | maileerestaurant.com
James Beard Nominated Chefs' Restaurants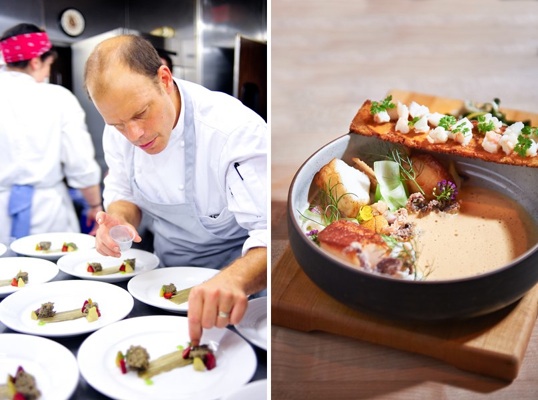 Chef Kevin Nashan and dinner at Sidney Street Cafe
Photograph courtesy of Sidney Street Cafe
SIDNEY STREET CAFE | CHEF KEVIN NASHAN
"This is one of those blow-out restaurants where, from start to finish, you're well taken care of," says Josh Galliano about fellow chef Kevin Nashan's New American restaurant. Nashan calls his place "fun, delicious, and no fuss." and says, "It's thoughtful cooking using our Midwest ingredients. We hear from a lot of people that they've celebrated every anniversary or special occasion with us, yet it's also somewhere you could just walk in and grab a quick bite at the bar. I love our Rabbit & Waffles dish served with sorghum/mustard ice cream, and Pad Thai Sweetbreads."
2000 Sidney Street, St. Louis, MO 63104
T: 314.771.5777 (Book a Table) | www.sidneystreetcafe.com
NICHE | CHEF GERARD CRAFT
Chef Gerard Craft is creating destination dining and his restaurant is considered one of the top in the country. You can order à la carte or the tasting menu. Kevin Nashan puts this New American restaurant on his recommendation list because, "it's where I'd take a visiting chef for inspiring and delicious food."
7734 Forsyth Boulevard, Clayton, MO
T: 314.773.7755 (Reserve Here) | www.nichestlouis.com
Dessert | Ice Cream
TED DREWES FROZEN CUSTARD
Ted Drewes opened his first ice cream store in Florida in 1929 and in 1931 he opened in St. Louis. The custard is different from traditional ice cream because of the butterfat, egg yolk and amount of air which gives it a more silky and smooth texture. Kevin Nashan loves their ultra thick milk shakes, "The concrete always puts a smile on my face."
4224 S Grand Boulevard, St. Louis, MO 63111 | T: 314.352.7376
6726 Chippewa Street, St. Louis, MO 63109 | T: 314.481.2652
www.teddrewes.com
DRINK.
Coffee
SUMP COFFEE
"The coffee is spectacular," says Josh Galliano. "The owner Scott is a perfectionist. He wants you to be engaged with the whole process, to know what you're drinking, why you're drinking it, why he bought that coffee bean from this small roaster." Kevin Nashan agrees, "I love Sump. They've changed the coffee game forever in the Lou, it's amazing."
3700 S Jefferson Avenue, St. Louis, MO 63118
T: 917.412.5670 | www.sumpcoffee.com