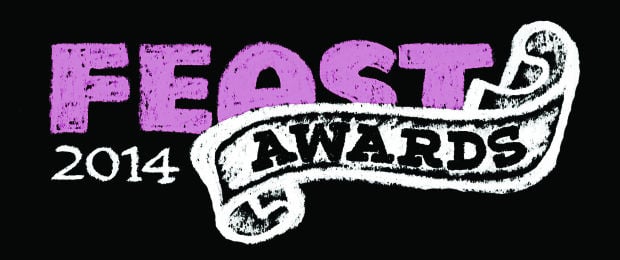 Every year we look forward to sharing the Feast 50 issue with readers, not only because it's our anniversary issue, but also because it's an over-the-top celebration of our city's remarkable food-and-drink scene. This year, for the very first time, we are proud to present the Feast Awards, which will become a new tradition that makes the Feast 50 issue that much more special.
In the spirit of celebrating the industry experts who are shaping the St. Louis food community, we chose to give the Feast Awards a peer-to-peer judging structure. We approached seven local industry experts and asked them to weigh in on 25 categories ranging from the finest local chefs and restaurants to the very best wineries and breweries and more. The judges established the initial list of nominees, and after their winners were determined, we launched an online poll to give readers the chance to weigh in as well. Though only one of the five nominees in each category could claim the top spot, we have also shared honorable mentions, which indicate close second choices as determined by the judges. In addition to the judges' winners, we have included the people's choice winners in each category.
Feast Award Judges:
Vincent Bommarito III, executive chef and co-owner, Tony's
Steve Gontram, owner, Five Star Burgers
Dan Kopman, co-founder and chief executive officer, The Saint Louis Brewery (Schlafly Beer)
Cary McDowell, corporate chef, Euclid Hospitality Group
Matt McGuire, director of service, Craft Restaurants Ltd.
Zoë Robinson, proprietor, Bobo Noodle House, I Fratellini, Bar Les Frères
Adam Tilford, co-owner, Tilford Restaurant Group
2014 FEAST AWARDS WINNERS:
Chef of the Year
Judges' Winner: Kevin Nashan (Sidney Street Cafe)
Honorable Mention: Ben Poremba (Elaia and Olio)
People's Choice: Josh Galliano (The Libertine)
"Kevin is not only a very talented chef, but he is also a really nice guy who cares about his employees and his community." – Dan Kopman
"I can't say enough about Kevin. He represents everything that is right with our industry. He is as passionate as the day is long; always challenging himself and his team, and my goodness, does it show. Sidney Street continues to evolve and reset the standard for fine cooking in St. Louis." – Cary McDowell
Restaurant of the Year
Judges' Winner: Sidney Street Cafe
Honorable Mention: Cleveland-Heath
People's Choice: The Libertine
"It's so reassuring to see that with constant dedication, patience and a whole lot of love, a restaurant can be propelled into its own. For those who ever questioned Kevin, his brother Chris and his wonderful bride Mina for taking the St. Louis fave and running with it, certainly they have had the last laugh! Proof positive that the 'family restaurant' is alive and well in America – and what a gift that we were all able to watch it grow as the rest of the country now takes notice of their finesse and success." – C.M.
Service in a Restaurant
Judges' Winner: Niche
Honorable Mention: Tony's
People's Choice: Sidney Street Cafe
"I'm admittedly very biased – but Matt McGuire is just fantastic! He has the rare, natural gift of being able to anticipate the needs of his guests, and has a superhuman sense of attention during service. Nobody makes me feel so important." – C.M.